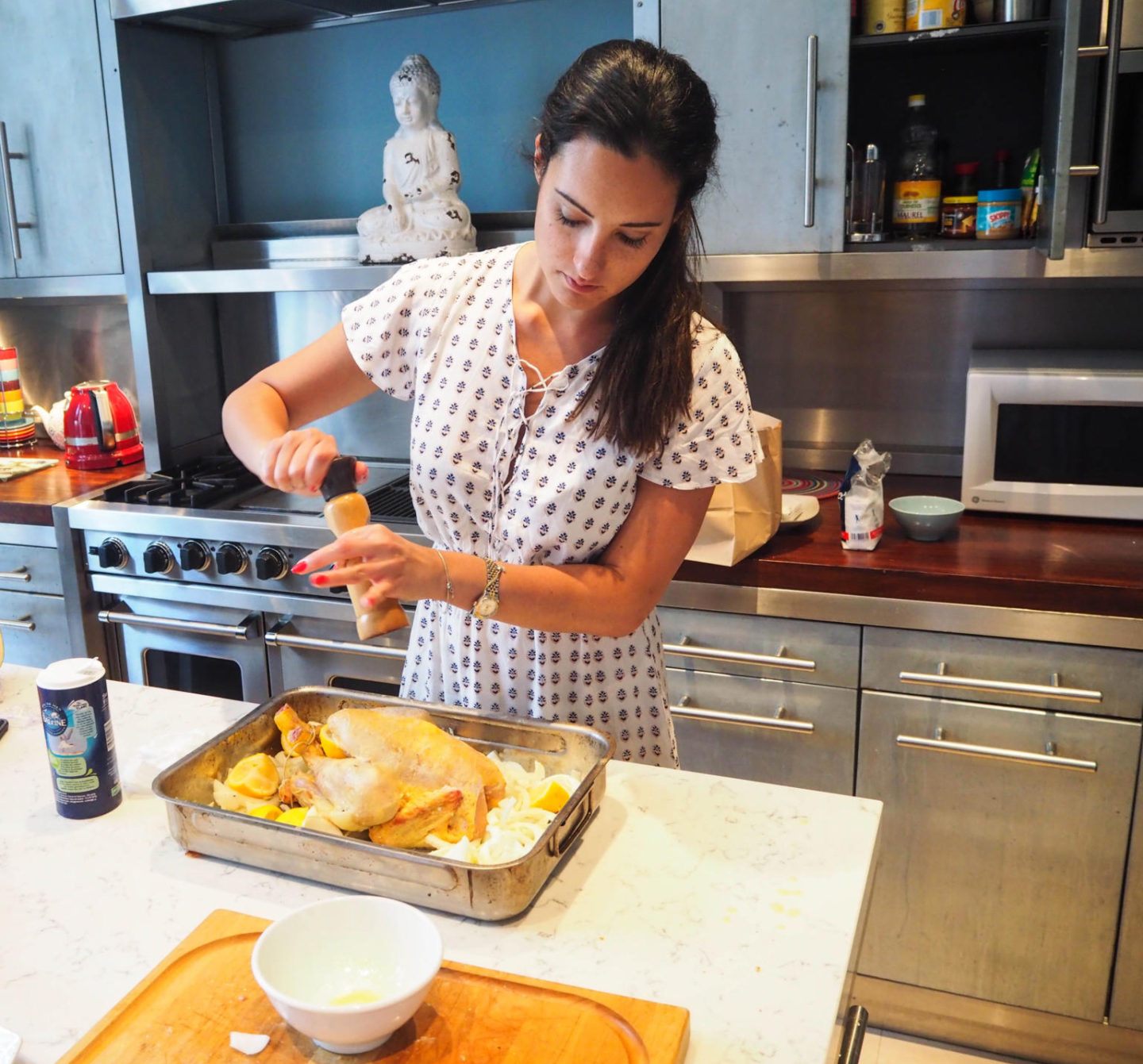 "Where are the chickens? We need a whole roasting chicken," I muttered as we wove our way through the beautiful aisles of the La Grande Epicerie du Paris at Le Bon Marché Rive Gauche, a playground for any gourmand. The market is centered around crates abounding with beautiful produce radiating prisms of nature's hues, surrounded by mounds of freshly baked bread wafting an irresistible aroma. The perimeter boasts displays of mouthwatering pastries, fromage (cheese), and wine. Hello heaven. Shelves of decadent French beurre (butter) stacked like bricks lined the walls of the refrigerated section. I don't know what they're doing to the butter in France but it's ridiculously delicious. Like crack. Seriously. (Check out my full post on French markets here).
Anyway, I was on the hunt for the perfect ingredients to make a French roast chicken (check out the recipe here). Our 7th Arrondissement Parisian apartment came equipped with a full chef's kitchen. I couldn't resist getting wild in that kitchen.
"Here! Poulet! (chicken)" The little French I knew brought me to the chicken section, but that's about it. "How do I know which ones have giblets and which are cleaned? Shit." Language barrier strikes again. Matt, traveling companion 1, suggested I opt for the most expensive chicken (25 Euro – yikes) I could find, it had to have the giblets removed right? When in doubt, throw money at the problem? That was that. Off we went, brown bags in arms, back to our apartment.
It was almost 6:00 pm by the time we returned, and I was scrambling to get dinner started. The whole crew was gathered in the kitchen inspecting our goodies from our day's adventure at the market. I unwrapped the chicken and immediately knew something wasn't right … The color of the meat was much too dark. I looked at the label again and tried to decipher.
"Hmm... it doesn't say poulet…"
"Well what does it say?" Casey, traveling companion 2, asked.
"Canette… what does that mean? I know 'Canard' is duck…"
She whipped out her iPhone and started investigating. "Canette. Duckling…."
FML it was a duck. Now what?
"Well that's it. We are going out. Nothing is going to be open at this point and I don't have the ingredients to roast a duck!" I exclaimed.
"Hang on." Matt to the rescue on the Google machine. "I found a nearby street market on Rue Cler that's still open. There's a butcher there. Boucherie means butcher right?"
"Let's go!" I was already halfway out the door.
We bolted out of the apartment and sprinted towards the market. As we turned the corner onto Rue Cler, all the vendors were clearly packing up for the day – not a good sign. We franticly power-walked down the street hunting for the "Boucherie." As we neared the end of the street there was still no sign of meat. Pizza seemed more and more imminent, when all of the sudden…
"There it is! Go!"
I ran inside. Out of breath, I blurted out "Parlez vous anglais?!" (Do you speak English?!)
"No. Eh, a little." The butcher responded.
"Eh… umm… Poulet?!"
"Oui!" he respondend and held up a rotisserie chicken.
"Ermm no no … NOT. Cooked?!?"
"Oui oui!" He ran into the back, probably wondering why this crazy American chick was so desperate for a damn chicken. He reappeared waiving a chicken above his head. A full chicken. Head, feet, the whole she-bang. The panic must have been all over my face because he immediately said "Oh! No! I…" and proceeded to grab a knife and mimic a butchering action.
Praise. He went full on Benihana on that poulet. A blow torch was involved. It was great.
I paid for my freshly butchered poulet and was on my merry way, feeling very Parisian and VERY attached to my authentic French chicken that was freshly butchered at the street market.
The rest of the evening went on without a hitch, aside from blowing several fuses in an attempt to correctly interpret the European settings on the Viking oven, and almost burning my poor poulet due to misunderstanding those settings. Never a dull moment, but so many memories. You can find the recipe for my roast chicken here.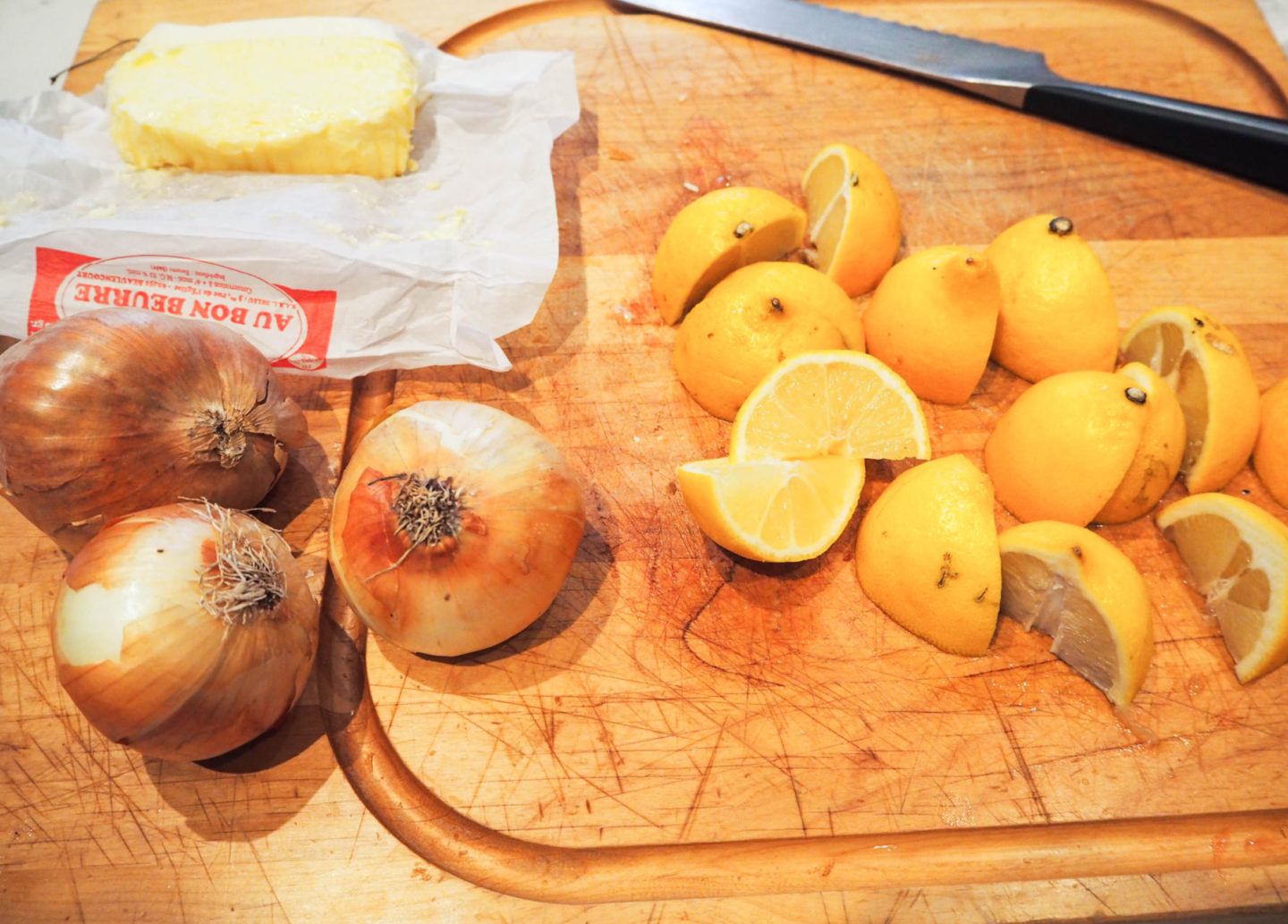 Simplicity is best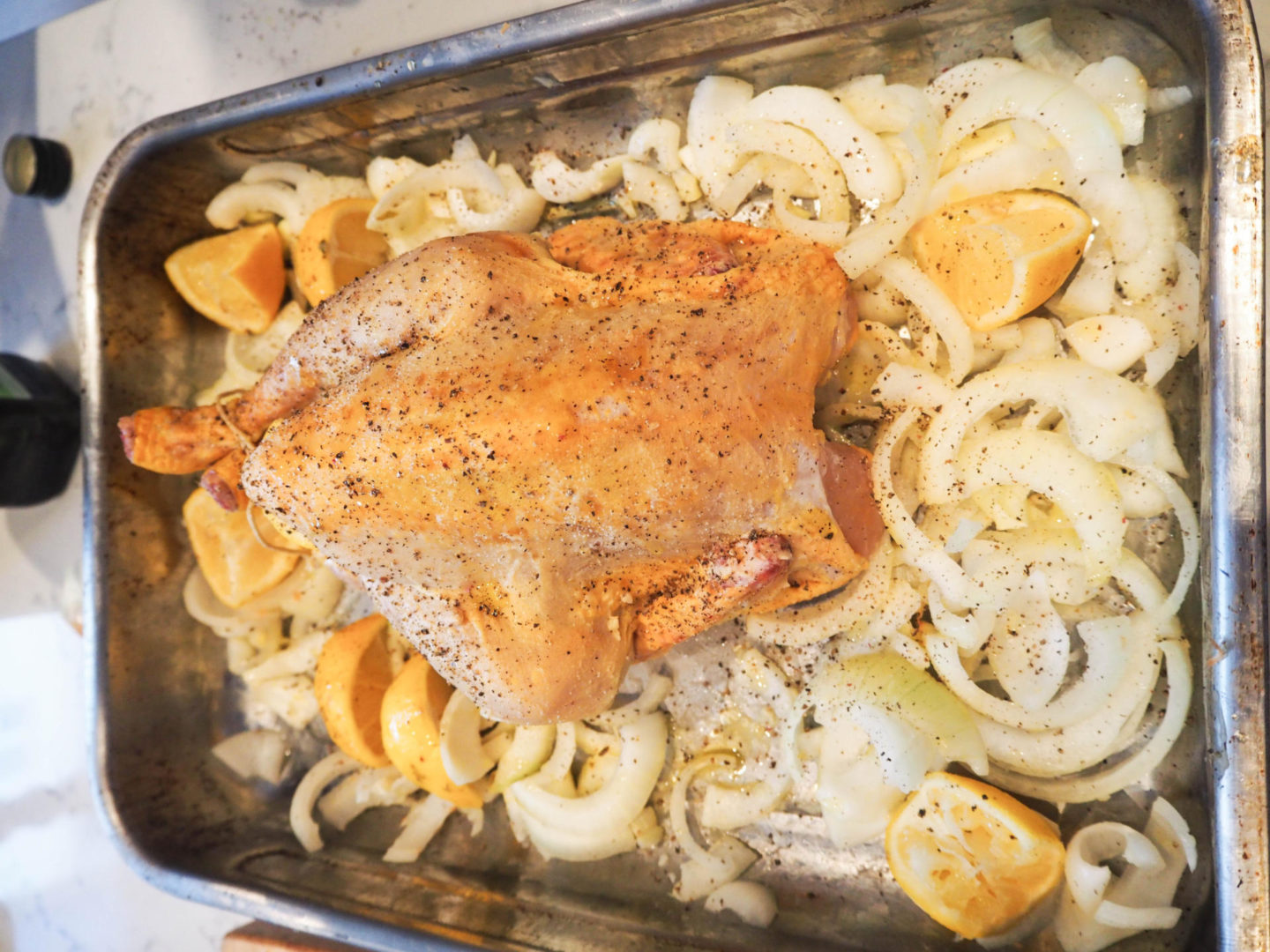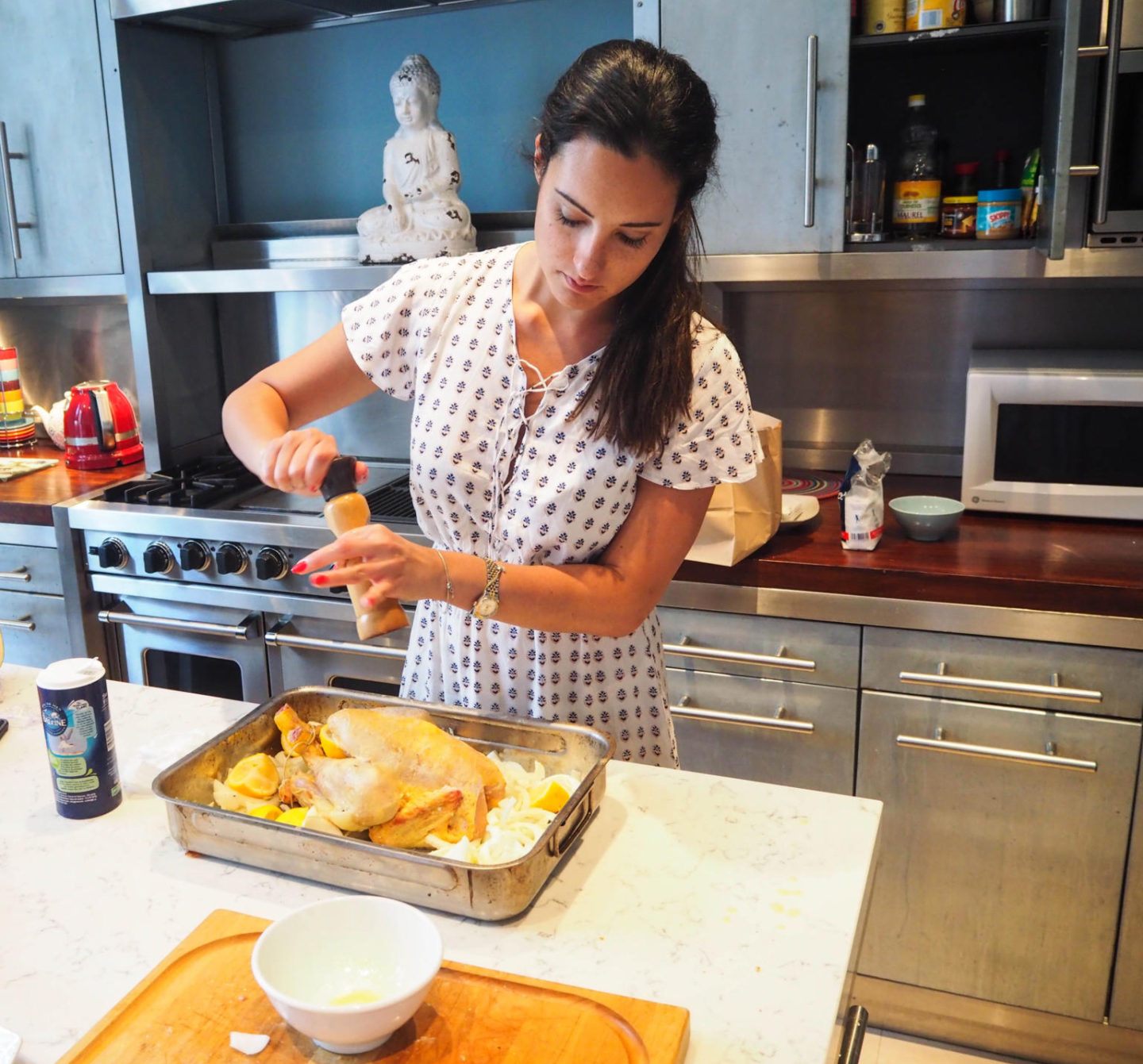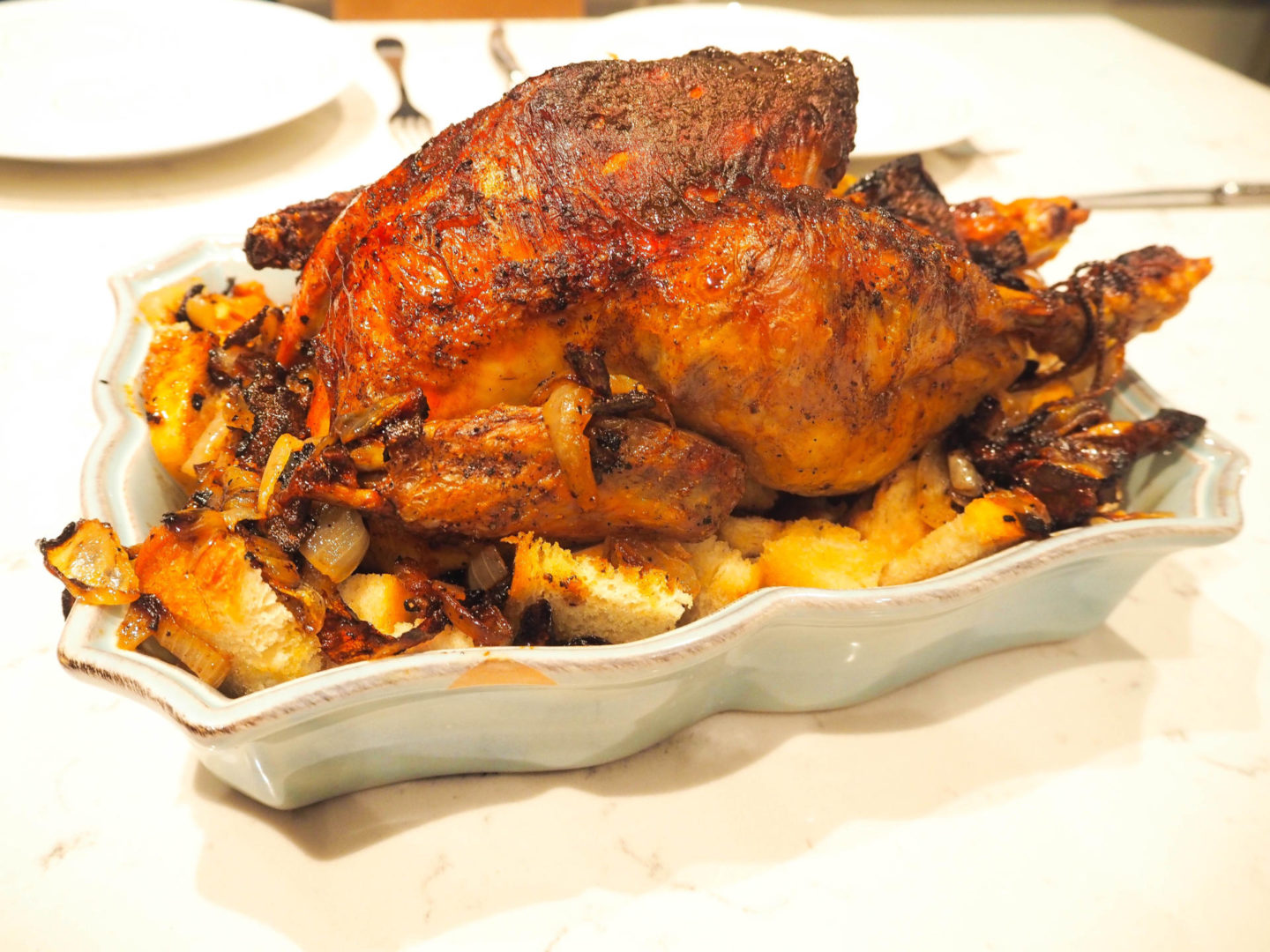 Not too shabby 😉 Be sure to check out the full recipe!
xo,
Melissa
*Photos and Content by Melissa Redondo*