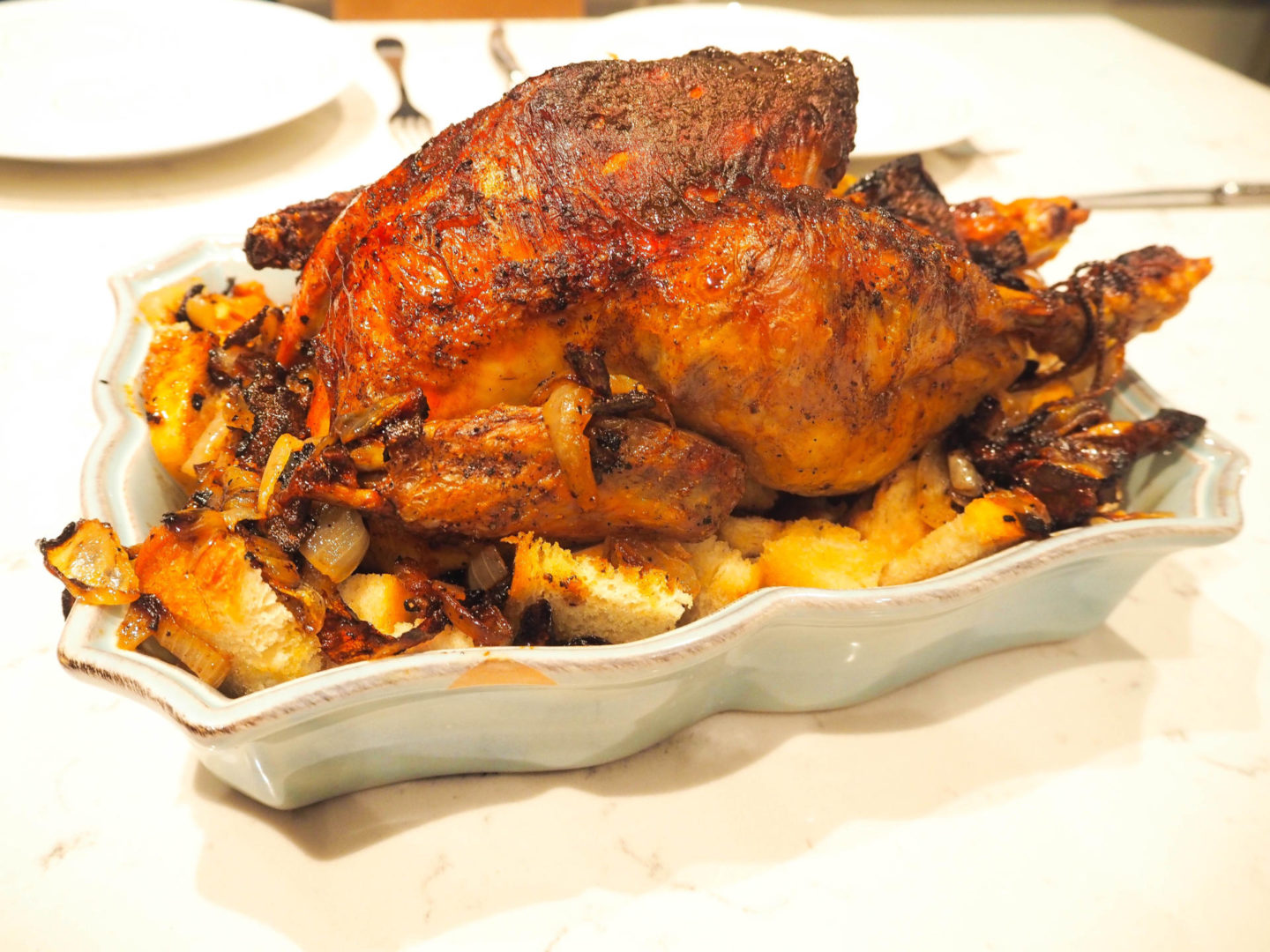 This roast chicken recipe is one of my favorites! It is sooo easy to make but so insanely delicious! I love it for simple or last minute entertaining because the presentation is so impressive 😉 This recipe came in handy when I cooked dinner for my friends in Paris (full story here).
Ingredients:
4-5 lb Roasting Chicken, giblets removed
2 large yellow onions, sliced
3-4 tablespoons unsalted butter
4 lemons, quartered
2 tablespoons olive oil
1 French round
Kosher Salt
Pepper
Tools:
Kitchen Twine
Roasting pan
Large Skillet
Directions:
Preheat the oven to 425° F.
Rinse the chicken and pat it dry with a paper towel. Generously season the outside and the inside of the chicken with salt and pepper. Stuff the inside of the chicken with the quartered lemons, gently squeezing out some of the lemons juice inside the the chicken. Secure the chicken legs with the kitchen twine to prevent the lemons from busting out.
In a bowl, toss the sliced onions in olive oil to coat them. Then layer them onto the bottom of your roasting pan.
Place the chicken on top of the onions in the roasting pan.
Melt the butter in a small bowl. Once melted, pour it over the chicken and gently massage it onto the chicken and into the skin, letting the residual butter drip onto the onions.
Place the chicken in the oven and let cook for 75-90 minutes. The onions will definitely char, but don't be alarmed! They give great flavor 😉
Remove the chicken and tent with foil.
Heat a tablespoon of olive oil in a large skillet. Layer the bread cubes evenly on the skillet and brown to create thick "croutons." Repeat this step until until desired number of croutons are made. Place the croutons in the serving dish.
Remove the foil from the chicken and place the chicken, onions, and jus on the bed of croutons. I love putting the chicken on top of the croutons because they soak up all the amazing juices from the chicken. A piece of chicken, a soaked crouton and a little onion together make for the perfect bite!
xo, Melissa